Voma supports Buy Now, Pay Later (BNPL) with Affirm, AfterPay (also known as ClearPay in the UK), and Klarna via our Stripe integration.
Please visit these Stripe docs for more details about the currencies, countries, and transaction limits supported by each of these payment methods:
Important Details
In order to enable BNPL for your Voma offer, your offer's main product must be a one-time payment. BNPL is not supported for main products that are a subscription or split-pay.
Upsells are not currently displayed when a BNPL payment method is used by your customer to submit their initial order (main product and optional order bump).
A key advantage of using BNPL instead of split-pay is that when using BNPL, the full price of your product is paid to you (the seller) immediately after the order is submitted and processed. For example, if you are selling a $100 digital product with BNPL, the customer can set up payment terms with the BNPL provider (i.e. 4 payments of $25 paid over time), but you will receive full payment for $100 in your Stripe account as soon as the initial order is submitted and processed. When using split-pay in the same scenario, you would need to wait until all four payments have been paid by the customer over a period of time before you receive the full $100 payment.
How to Enable BNPL payment methods for your offer in Voma
1. Open the Settings tab of your offer in Voma.

3. Disable Automatic payment methods.

4. Select "Credit cards" + the BNPL payment methods that you want to enable for your offer. In this example, we are enabling cards, Affirm, AfterPay, and Klarna.

5. Press Save.

Example
After updating and saving your offer settings, refresh your offer page to see the payment methods that you have enabled. These will appear in the Payment Method section of your offer.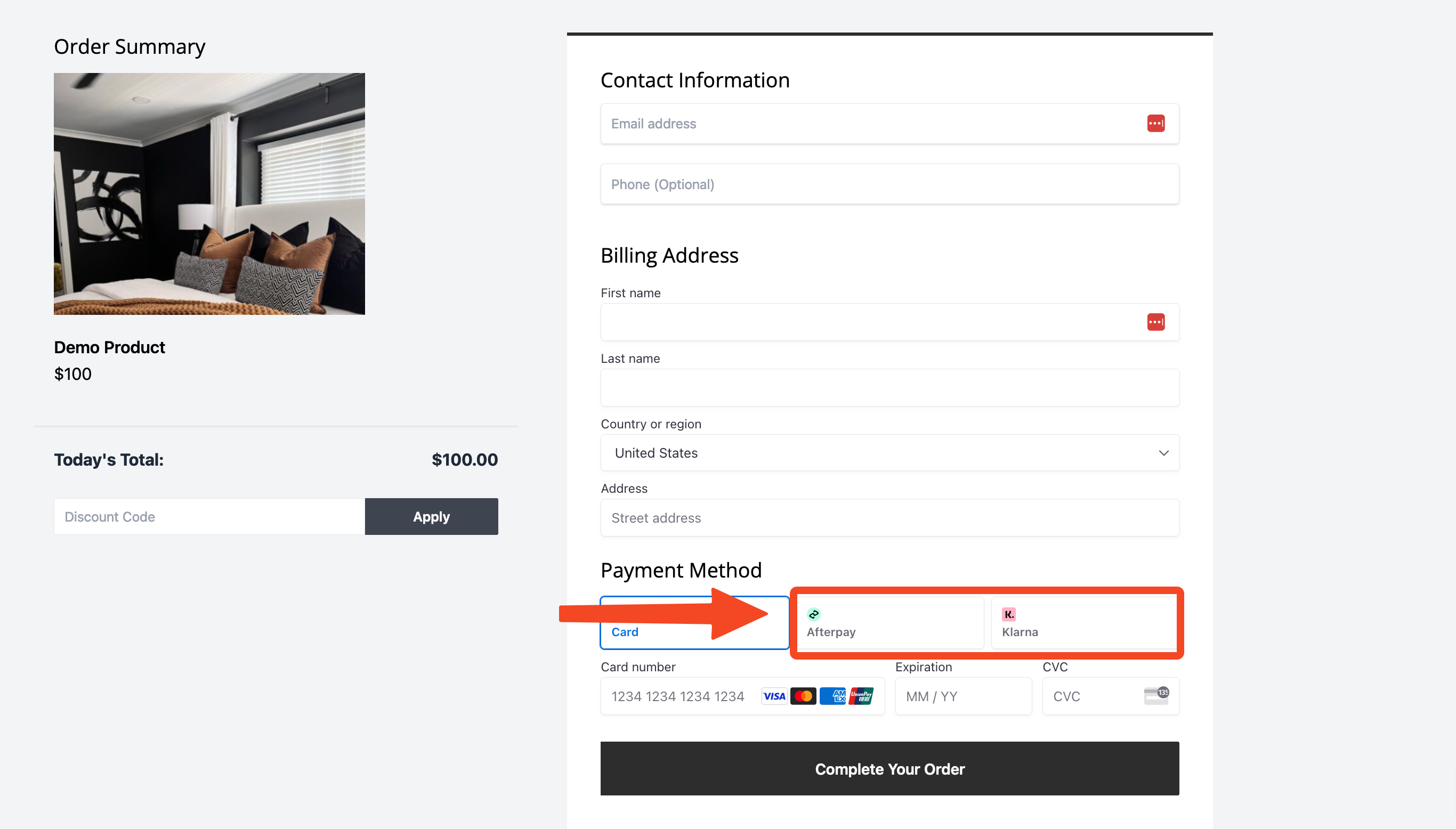 Stripe
When a customer completes a transaction using BNPL or digital wallets, the payment details will show up in the Stripe payment record for the full amount, with the corresponding BNPL provider or digital wallet logo.

If you have any questions, please let us know at

help@voma.ai

or in our live chat at the bottom right of your screen.